2008.09.29 Monday
Love and friendliness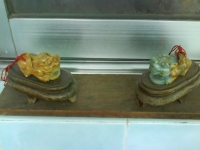 Who can put us together?

Is it accident, incident or coincident?

Nope.

We attract each other with the subtle intention of sharing love and friendship.

Once we understood and became conscious of our intention, we can see and share the tranquility and the pureness from the connection of love with each other.

Life is beautiful and harmonious, if we are willing to release the violent and vengeful shell.